January 5th, 2018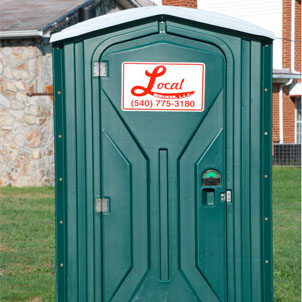 Local Services, LLC. can provide a full range of port-a-johns
History of the Porta Potty
The Portable Toilet. We've all probably used one at some time in our daily lives. They're everywhere and for a good reason. But where did they come from? Despite what you might think, porta potties have a long history and are the result of many decades of science, engineering. From their humble beginnings to some of the most luxurious toilet trailers that you might see today, let us take a brief look at the history of the common porta potty.
From Humble Beginnings
The first porta potty saw use during and after World War II and was used primarily for sailors who spent a large amount of time without coming back to shore. They were bare-bones devices, made of wood and steel that lacked many of the amenities that we see today. The smell was another major complaint as the important deodorizing solution would not be developed for years afterward. Nevertheless, the need for a portable toilet was recognized, and eventually, changes would come that would start it on the path that would lead us to the modern-day porta potty.
Rapid Evolution
Once the deodorizing liquid was invented in the 1950s, the use of porta potties exploded. In 1960 the first patent for a polyethylene portable restroom was issued by George Harding, the co-founder of the PolyJohn Corporation. In the 1970s, fiberglass toilets along with a whole host of other toilet-related improvements were developed, bringing the porta potty further into the public sphere. Polyethylene ended up being superior to these fiberglass toilets due to their lighter weight and their ability to be assembled from multiple parts. In 1984 the first toilet trailers hit the scene when one was built by PolyJohn, followed by luxury restroom trailers. These featured many amenities of the more popular restroom including running water, flushable toilets and more. Although fiberglass toilets aren't entirely gone, there have been a host of new improvements and variations that were made to the common porta potty turning it into what you regularly see today.
Where We Are Today
Over the course of 50 years people went from using wood and metal boxes to full luxury trailers with running water. The first portable toilets didn't even have a deodorizing solution to them! Without these many advances in portable bathroom technology, the toilet world might look very different today. And who knows what the future might bring? So the next time you sit down for a break in a portable toilet, remember that what you are using is the result of decades of engineering and research
Today's designs are the results of decades of engineering and research. If you ever need to rent one of these marvels of engineering for an event, party or other gathering choose Local Services LLC. For all your porta potty needs: (540) 775-3180!